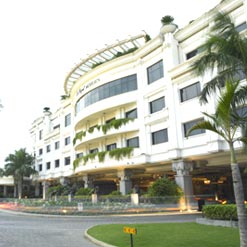 Location:
1,G.S.T Road, St. Thomas, Mount, Chennai, 600016, India.
Airport: 5 km., Railway Station: 1.5 km., Bus stand:3 km.
Room Facilities:
There are 113 Standard Rooms, 59 Deluxe Rooms, 46 Royal Club Rooms, 10 Executive Suites, 10 Deluxe Suites, 1 Royal Suite and 1 Presidential Suite. All the standard rooms are elegantly appointed and offer several guest amenities and services. The Luxury Rooms are luxuriously appointed, spacious rooms with an in-room fax. They are further classified into: Taj Club, Executive Suites, Club Suites and Presidential Suites.
Other Facilities:
Dining
Navaratna :
this authentic à la carte restaurant serves the country's finest royal Indian cuisine. A private dining room is available for up to 12 persons and an intimate bar is available for pre-dinner drinks. Cilantro - a 24-hour international dining restaurant famous for its seven show kitchens and creative buffets. Cilantro serves Indian, Continental, Chinese, and south-East Asian dishes cuisine and boasts the only teppenyaki counter in the city.
Kaya :
located on the top floor of the hotel, with magnificent views of the gardens and pool, this idyllic location is home to the only Mediterranean speciality seafood restaurant in the city. Live cooking.
The Dome Bar :
located off the lobby, this bar serves a wide selection of light snacks, flavoured teas, coffes and delicious pastries and televises major sporting events.
Le flame :
nightclub and fun pub.
Le Gourmandise :
located in the foyer, this French-designed delicatessen is pure indulgence, offering a wide variety of home-made savouries, breads, pastries, cakes, home-made indian sweets and chocolates.
Conference and Banquet facilities :
The hotel has a wide variety of banqueting facilities and a choice of small meeting rooms (150 square feet). The Grand Madras Ballroom (9200 square feet) is the largest pillarless ballroom in Chennai, with a large pre-function area encompassing a large bar counter serviced through a private entrance. The hotel has a state-of-the-art business centre, providing an efficient service for the discerning business traveller.
Entertainment, Sports and Recreation :
The hotel offers Funpub,Royal Club Lounge, Multi purpose Gym,Beauty parlor, Health Club, In-house Video Programming, Swimming Pool and Tennis Court,well-equipped Business Center Conference Facilities, Internet Facility, Secretrarial services,Concierge, Fitness Center or Spa .
Rooms:
Suites and Royal Club Rooms : There are 113 Standard Rooms, 59 Deluxe Rooms, 46 Royal Club Rooms, 10 Executive Suites, 10 Deluxe Suites, 1 Royal Suite and 1 Presidential Suite